Case Study: University of Manchester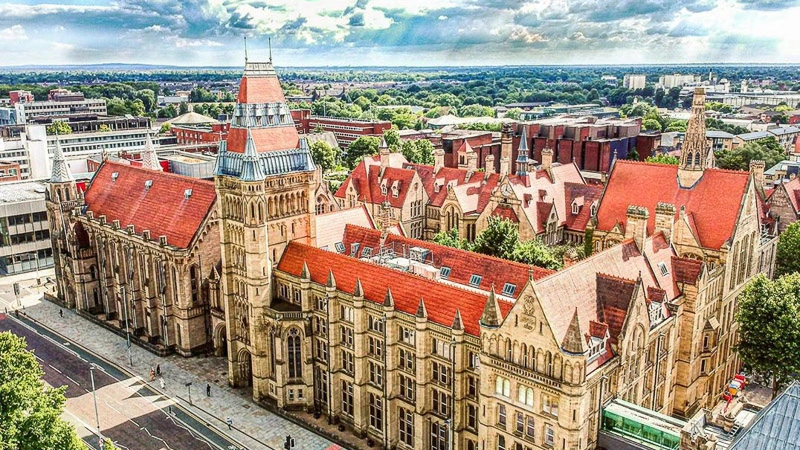 With an annual income from research grants and contracts of £236m in 2021, the University of Manchester (UoM) is among the top 5 research-intensive institutions in the UK, Britain's largest single-site university, and recognised as one of the world's top 50 universities.
This case study provides a deep dive into the implementation of BlackDackel as the new research costing and pricing solution at UoM. Based on a project review and stakeholder feedback, it highlights the benefits achieved and the lessons learnt in the process. Readers should come away with an understanding of the key success factors for the implementation of a research costing solution and an inside look how the rollout of BlackDackel has been a catalyst for changes at UoM.
Goal
When assessing the market for a new costing solution in 2019, the University's old costing solution pFACT had been in place for about 10 years. Having run out of vendor support and lacking data feeds from the HR system, the tool had been relegated to a salary calculator, used in combination with a number of Excel sheets to price UoM's research bids. This was no longer adequate to support the University's needs and ambitions.
Given the scale of UoM with 9 academic schools, 23 research institutes, and about 50 Research Services staff costing bids on a daily basis, the immediate need was for the new system to
enable Research Services staff to accurately cost projects based on current pay details, inflation rates, exchange rates, and more,
support the costing of large-scale, multi-centre projects,
enforce policies, making sure that bids sent out to funders were compliant with funder regulations and had undergone due process,
facilitate management information on research costing through reports, and
improve research recovery rates.
Project History
August 2019 — Project Start

After the selection of BlackDackel in a competitive tender procedure, the system implementation kicked off in August 2019, including the typical deliverables of a BlackDackel project such as

setting up live data feeds from corporate systems into BlackDackel, covering staff data, users, organisational units, payscales, and funders,
specifying rates and rules for all cost elements such as salaries and increments, pensions, national insurance, supplements, non-staff costs, FEC and non-FEC overheads, inflation rates, FX conversion rates, and more,
configuring a number of pricing templates in BlackDackel to reflect funders' pricing policies,
loading research facilities and equipment items into the system, for an accurate and up-to-date inclusion of the applicable charge-out rates, and
creating a number of custom reports for partners, approvers, and other stakeholders, next to the available standard funder reports.
November 2019 — Project Re-design

As the project team was progressing on the initial set of tasks, it became increasingly clear that the University's ambitions exceeded the originally anticipated scope; instead, the new system was sought to:

be made available to a larger and more diverse user group, eventually including finance staff, project managers, and academics,
be integrated more deeply, with an integration with Elsevier's Pure system -the research information system in place at UoM- seen as central to the user experience,
facilitate closer collaboration between Research Finance and Research Services -the two teams directly involved with research costing, yet organisationally separate-,
loop in other stakeholders (e.g. equipment managers) about relevant bids where required, and
help formulate and implement a consistent research costing strategy across the University.

Given this increase in scope, the University team decided to re-design the project execution and delivery. While keeping its high-level waterfall methodology in place, the team began to adopt an increasingly agile approach, partnering with BlackDackel on designing the required product features and establishing tight feedback loops to quickly and iteratively test and validate the resulting developments.
January 2020-July 2021 — Implementation and Test

As a consequence of the scope change and early user feedback, a number of product developments were prioritised and implemented by the BlackDackel team over the following 12 months, such as

enhanced policy checks and associated waiver request and approval workflows,
data model extensions to accomodate additional data elements on funders, equipment, staff, and payscales,
more and detailed privileges to account for UoM's devolved structure and diverse user base,
configurable mappings to the University's finance coding structure in terms of project task codes and income and expenditure codes, and
extensions to the Pure interface to operate on top of the finance coding structure, providing more detailed breakdowns to UoM's finance team.

Parallel to the development tasks owned by the BlackDackel team, the University team's focus was on effecting the changes brought about by the new costing system and on implementing a coherent research costing strategy across the University. Reflecting the diversity of the stakeholder group, the initiative entailed activities on different levels, including

end user engagement,
ongoing communications,
gathering requirements and collecting feedback,
mapping out updated business processes,
securing executive buy-in from the project sponsors,
status reports to the steering committee, and
bringing together teams on costing issues with material impact such as indexation, markup, and rates.
July 2021 — Rollout

Following the implementation, a two-month user acceptance test, and a third-party penetration test, BlackDackel was rolled out to the initial user cohort in July 2021.

As the project team was still the single go-to point for BlackDackel-related questions and issues at the time of rollout, the decision was taken for a staggered/soft launch to prevent the team from being overwhelmed with support tasks on go-live. This also allowed adjustments to be made based on feedback of the initial user cohort, hence carrying over the agile approach into the production phase.
October 2022 — Academic Pilot

As BlackDackel has gradually been made available more widely across the University throughout 2021 and early 2022, the largest potential user group -UoM's academics- do not have access to the system at the time of writing this study. However, being true to its reputation as a forerunner in the sector, the University is committed to provide BlackDackel as a self-service solution for project cost estimates to its academic user base.

To this end, the BlackDackel team has been designing a simplified user experience for academics and anonymisation mechanisms to facilitate ballpark costing without divulging pay details of peers; while the University has made extensive consultation with senior academics to provide guidance and feedback on those developments. With the developments now completed, a two-month pilot phase is scheduled to commence in October 2022, followed by a planned academic rollout in late 2022 or early 2023.
Project Review and Lessons Learnt
It's time to take stock - what are the recommendations of a large institution like UoM when taking on BlackDackel as the costing system of choice? The following are excerpts from UoM's 'Lessons Learnt' log.
Requirements

Identifying requirements: the University completed a cycle of requirements gathering before starting market consultations. This was done by bringing together a small team of users from across the three faculties and understanding what worked well and not so well with the current tool, in addition to the strategic requirements set by leadership. Setting out clear objectives helped identify the right type of system for the University's needs.

Setting expectations: being honest and clear with the business about the future system and how it would support UoM's costing requirements was essential for the buy-in from costing managers. The risk is to oversell the new system in comparison to the old. A clear communication on requirements, limitations, and realistic expectations benefits acceptance and -in hindsight- should have been given more focus already in the early procurement and project stage.
Time and Scope

Setting realistic timescales: depending on the size of the institution and costing support teams, implementing a new costing system does take time. The University underestimated the timelines for development, implementation, and transition, assuming a like-for-like change. Delays can have a negative impact on uptake, morale, and the success of the change, so it is vital to set realistic timescales.

Understanding deadlines and priorities: mapping out the required project tasks for the system implementation helps understand the timelines and deadlines, including governance board sign offs. Setting up robust project governance as well as agreeing the levels of oversight at the start helps set project gateways and feeds into the project planning.

Scope Limitation: favour a service oriented or stage based approach with discrete services/systems (e.g. costing, ethical review, contracting, financial management) over a monolithic approach with a broad scope conflated into a single system and implementation project; this increases the chances of success, avoids vendor lock-in, simplifies implementation and delivery, and increases control and flexibility.

Change Management: as not every aspect of the project can be determined up-front, it is vital to have flexible mechanisms in place to manage change and the impact upon timelines.
Project Team

Team: having access to the right people at all times is vital to a project's success. At UoM, the initial core team changed over time as further expertise was required, the needs of the project changed, and staff took on new roles internally and external to the University. Having line of sight of upcoming staff changes and acting appropriately and timely avoids hold-ups and loss of expertise.

Commitment: with research costing being a fairly specialised domain, key project members must have the resources -both in terms of expertise as well as time commitment- to dive into the nuances of the domain and the system from the start. For larger implementations, this calls for a full-time domain expert for the duration of the project; for smaller implementations, a full FTE is not required but less than 0.4 FTE are not recommended.

Self-governance: Keep stakeholders close and engaged but make sure the core project team is self-governing and equipped to make decisions autonomously. At UoM, a dedicacted project manager kept the project on track at all times.
Communication Strategy and User Engagement

Despite being a cliché, "Communication is key" proved to be one of the most essential pillars of the project at UoM and many 'lessons learnt' will be taken to any forthcoming projects to ensure that a full communications campaign is at the centre of a project of this scale.

Early Engagement: engaging with users at an early stage and providing robust feedback loops improves users' buy-in and the confidence that their voice is being heard. As a lesson learnt, the team should have involved users at a sooner date and collected feedback from a larger cohort, at shorter increments during the project, and in a more structured manner.

Clear communications plan: setting up a clear communications plan and campaign helps identify different communication pathways and audiences. Tapping into existing comms channels and setting up new ones allowed the team to disseminate project updates to all stakeholders. During pandemic times, utilising virtual meetings and online training sessions allowed for more frequent shorter drop-in sessions and a wider outreach to more users.

Organisational visibility and support: good management visibility helped gather support for changes in scope and timelines and facilitated the acquisition of required resources and funding.

Conflicting objectives: conflicting stakeholder objectives presented challenges for the project and product team; e.g. the right balance of flexibility (end user) vs. compliance/control (institution) calls for careful consideration and clear communication of design decisions.

Testing Discipline: an important success factor for a system implementation, repeated iterative testing allowed for quick development cycles and kept the number of production issues at a minimum

In summary, engaging with as many people as possible, providing timely updates, utilising successful comms routes, and taking stakeholders along the journey is critical for success, avoids the 'us vs them' feeling and facilitates organisational and individual adaption to changes.
Benefits
Since go-live in 2021 and as a consequence of the learnings presented above, the engagement with various stakeholders like faculty leadership, research services, and academics has been very positive. The opportunity to be involved into the product feedback loop is appreciated, leading to strong buy-in and appetite to be included into user cohorts as the system is rolled out more widely. This is also reflected in the adoption, with more than 4,000 projects created in BlackDackel in the first 12 months of production.
Having a single source of truth for costing and pricing data has promoted a joint view on research costing across the organisation and has been shaping the discussions on processes and strategy. Conversations are less siloed, and trust has increased with shared goals across teams. This wasn't anticipated when the project set out but has turned into a catalyst for changes, with painful but useful discussions, raising awareness for issues and opportunities.
The quality assurance of bids is improved, and the underestimation of project costs is reduced as BlackDackel provides automated policy checks (e.g. for minimum academic FTE) and facilitates exploiting available "wiggle room" on costs, e.g. in terms of indexation and cost allocation.
In summary, the overall upgrade of the costing system, processes, and strategy is on its way to delivering the results sought by the University, and more. Throughout the project, the engagement with BlackDackel has been exceptional, with the team listening to business needs and being responsive to implement required changes and developments in the system. And despite the sizeable developments, the team managed to translate requirements into generic rather than bespoke product functionality, hence keeping the system focused on its core deliverables for UoM and other clients. Going forward, BlackDackel's vision for a continual improvement of the system is being appreciated by the University and encourages collaboration with and guidance by its growing customer base.
Traceyanne Sinclair is a Business Change Manager at the University of Manchester. In her current role, Traceyanne leads the implementation of change to processes, systems and policies in various business areas across the University. She has a focus on research costing management and has been developing new costing processes and functionality for the past 3 years.

Malcolm Brown is a Project Manager at the University of Manchester leading a number of projects within research. He has been managing the Blackdackel project and has been re-engineering the research costing process as part of the implementation.